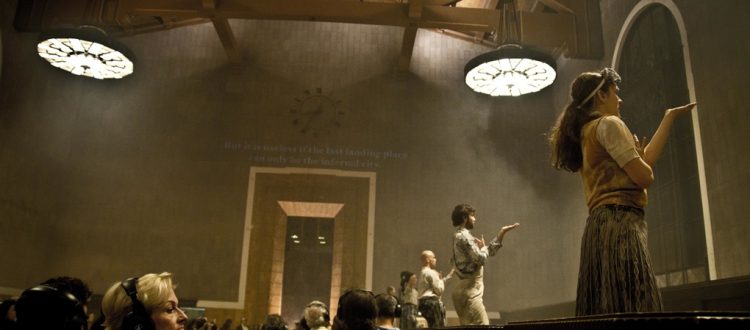 Call for Papers: International Conference "Opera and the City Technologies of Displacement and Dissemination"
Opera and the City
Technologies of Displacement and Dissemination
National Theatre of São Carlos
(Lisbon Opera House)
Lisbon, Portugal
24—25 June, 2019
Keynote Speakers:
David J. Levin (University of Chicago / Department Cinema and Media Studies)
Martha Feldman [to be confirmed] (University of Chicago / Department of Music)
Paulo Ferreira de Castro (Universidade Nova de Lisboa / CESEM)
Programme Committee:
Jelena Novak (Universidade Nova de Lisboa / CESEM)
João Pedro Cachopo (Universidade Nova de Lisboa / CESEM)
Mário Vieira de Carvalho (Universidade Nova de Lisboa / CESEM)
Since its inception in Italy around 1600, opera has maintained an intimate relationship with urban space and the public sphere. Most opera houses were erected in city centres and came to be seen both as secular temples and sites of entertainment in which the appreciation of high art coexisted with popular conviviality and the representation of social, political, and economic power. Just as the development of the operatic genre is inextricably linked to the rise of modern cities, it is also certain that much has changed since the inauguration of the first public opera house, the Teatro San Cassiano, in Venice, in 1637.
During the course of the twentieth-century, the emergence and advancement of new technologies of sound and image reproduction have been decisive factors in these transformations. It became possible to listen to and watch opera without attending a live performance. Further, after the introduction of synchronized sound in cinema, nothing prevented opera from being performed and recorded in places other than opera houses. Later, thanks to TV, live audio-visual broadcasts of opera became a reality, one which new digital technologies have enhanced ever since.
This conference seeks to assess technology's impact on opera against the backdrop of its relationship to urbanity. The following question, in which issues of displacement and dissemination are weaved together, will stand at the centre of our discussions: how and to what extent did the development of audio-visual technologies allow for the visibility and audibility of opera beyond the theatre while at the same time encouraging its migration to other spaces? Many disparate practices invite this interrogation: from the live simulcasts that beam productions from opera houses to movie theatres, to the creation of new operas in town squares, train stations, old factories, swimming pools, and public transportation, not to mention community-oriented projects such as The Bicycle Opera Project or Operndorf Afrika, and open-air festivals, including the Arena di Verona Festival and the "Festival ao Largo" promoted by the National Theatre of São Carlos (Lisbon Opera House).
Despite its widely reputed decline, opera is presently enjoying a moment of surprising vitality. This is true in the fields of reception and production alike, as new forms of staging and creating opera are being experimented with every year. By addressing the link between opera, technology, and the city, this conference will also attempt to draw attention to this very vitality. We hope to stimulate as broad an exchange and as open an inquiry as possible, encompassing issues of dramaturgy, criticism, spectatorship, remediation, technology, and composition, among others.
---
We welcome proposals from both scholars and practitioners across disciplines for 20-minute long papers exploring any of the above-mentioned questions. Please submit your abstract (of up to 250 words) to propera2020@gmail.com no later than April 15, 2019. The program will be announced in early May. This international conference is organized within the scope of the project "PROPERA – The Profanation of Opera: Music and Drama on Film" (funded through the European Commission under a Marie Skłodowska Curie Action) and is co-sponsored by the Centro de Estudos de Sociologia e Estética Musical (Faculdade de Ciências Sociais e Humanas / Universidade Nova de Lisboa).