Early Music from the East and the West: Reusing the Past Today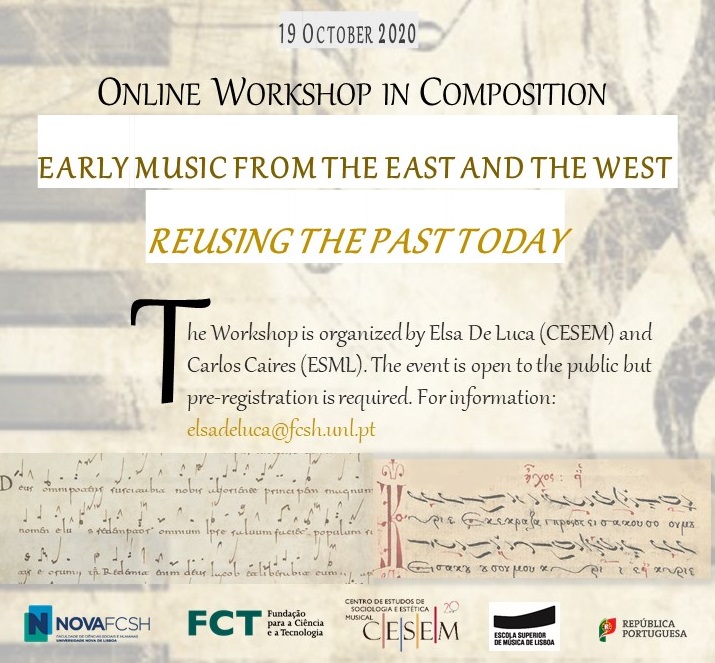 Online Workshop in Composition organized by Elsa De Luca (CESEM) and Carlos Caires (ESML)
PROGRAM
9:30 REIMAGINING THE OLD HISPANIC LITURGY Litha Efthymiou (University of West London)
Dr Efthymiou will discuss her musical compositions that emerged from working within an interdisciplinary team at the University of Bristol between the years 2013-17. These works take as their starting point various aspects of the Old Hispanic Liturgy.
---
10:35 THE EAST IN THE WEST: WORKING WITH SACRED CHANT
IN A MODERN CONTEXT Ivan Moody (CESEM – FCSH)
In this lecture I will discuss my approach to working with Eastern Orthodox chant as a foundational element in my compositional strategy, and the question if the interaction between contemporary musical language and the employment of musical languages from the past.
---
11:40 WHAT MAKES MUSIC LITURGICAL? James Chater (Ind. scholar)
Apart from the question in the title, topics covered include: ways pre-existing or traditional material can be re-used in new compositions or arrangements; and the issue of how anchored in tradition new compositions need to be in order to be considered as "liturgical".
---
14:30 CRUZAMENTOS Luís Tinoco (ESML)
This presentation proposes a reflection on the diversity of the activity of composition nowadays, achieved through several crossings, including (but not exclusively) with the Old Liturgical Music. Illustrated with musical examples from different authors, the discussion will also reflect on the reasons why some 21st century composers are attracted by the reuse of the past in their works.
---
15:35 UMA MÁQUINA DO TEMPO MUSICAL Sérgio Azevedo (ESML)
The "Hukvaldy Cycle", written between 2009 and 2020, and based on small fragments of music by Leoš Janáček, follows in the wake of other works in which I used, as a starting point, some elements of music from other composers: Lopes-Graça, Mahler, Mozart, Renaissance music, Schubert, etc. This process is a form of communication – through the ages – in developing this music towards new and unknown regions in our time. The aim is not to (re) compose "in the style of", or to obtain irony at the expense of the music of the past, and even less to create a free "collage". Instead, by merging past and present into a new ageless song, I try to create a kind of time machine. For this purpose, the ideas of Freud, Gombrowicz, Borges and Kundera were, and are, seminal.
---
16:40 A TENTATIVA DO BELO ATRAVÉS DO CAOS Nuno da Rocha (Royal Academy of Music)
The "songs of the past", more specifically early and baroque music, have been a great influence on my practice as a composer. In an attempt to organize chaos – an action that almost completely defines my creative idea – some tools from the past are used to pre-reflect on the pre-composition form and material. In this presentation, some very concrete examples of this influence will be given.
---
17:40 FAREWELL Elsa De Luca, Carlos Caires.