II NEMI Meeting – Periodical press as a source in Musicology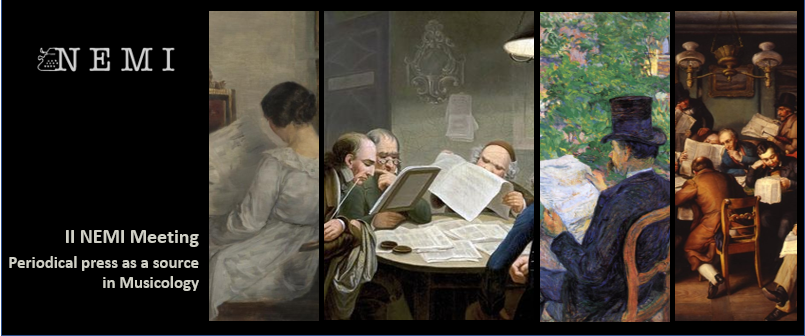 Presentation
The "III Jornadas NEMI: The periodic press as a source for Musicology" will be held on 16-17-18 May 2019 at NOVA FCSH, organized by the Center for Studies in Sociology and Musical Aesthetics (CESEM / NOVA FCSH) and the Center for Studies in Music in the Press (NEMI).
The periodical press, in particular musical criticism, opinion articles, news and publicity have served as source for musicologists in studies of biographies of composers, in studies of reception and speeches on music, among others. They are documents with their own characteristics and that comprise aspects of the musical life of a given space and period and the agents, individuals or organizations that participate in it. This colloquium aims to raise and debate issues related to texts on music in the periodical press, from the nineteenth century to the present, as well as with problems and research methodologies. Despite the emphasis on the periodical press, it is also proposed to reflect on sources from other media, such as radio, television and the internet.
With a varied program, which brings together researchers from various universities and institutes in Europe, North America and Brazil, in this colloquium will discuss topics such as the role of the music critic and his writing process, modes of reception of composers, works and interpreters, press and ideology, musical criticism in digital platforms, the press and theatrical activity, creation of opinion and the establishment of canons of music. The invited keynote is Prof. Katharine Ellis of the University of Cambridge who, at the end of the afternoon of May 17, will present a lecture entitled Music criticism beyond the Capital City: Smaller Ponds, Bigger Fish, on the circulation of models press and speeches in France in the nineteenth century. The program of the II NEMI Days also includes a concert co-organized by MPMP – Patrimonial Movement for Portuguese Music with music by composers and music critics Rui Coelho (1889-1986) and Luís de Freitas Branco (1890-1950).
The entrance to the sessions of the colloquium and lecture is open to all interested.
Organizing committee:
Scientific commission:
Elena Alessandri