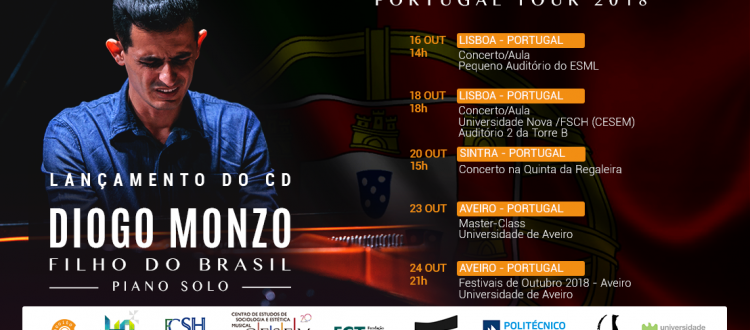 CESEM 20 years Commemorations: Diogo Monzo CD release
Diogo Monzo – Filho do Brasil
Son of Brazil is a project of "Solo Piano" that aims to share some of the wonderful history of Brazilian music. To this end, 14 songs were recorded with piano performances focusing on musical improvisation, a specialty of the pianist who launches his fourth cd for "Biscoito Fino Records."
The project includes important Brazilian composers: Catulo da Paixão Cearense, João de Barro (Braguinha), Pixinguinha, Noel Rosa, Tom Jobim, João Gilberto, Francis Hime, Luiz Eça, Roberto Menescal, Chico Buarque, Edu Lobo and Egberto Gismonti.
Diogo Monzo Filho do Brasil brings a new perspective to the Brazilian piano, because these are unreleased re-readings of these songs from the perspective of the new generation. To share the legacy of these composers is important to our music, our history and our culture. This enriches the diffusion and propagation of Brazilian music.
1- Luar do Sertão (Catulo da Paixão Cearense)
2- Choro Bandido (Edu Lobo e Chico Buarque)
3- A Saudade Mata a Gente (João de Barro e Antônio Almeida )
4- Segredos (Diogo Monzo)
5- Imagina (Tom Jobim e Chico Buarque)
6- Reencontro (Luiz Eça e Fernanda Quinderé)
7- O Barquinho (Roberto Menescal e Ronaldo Bôscoli)
8- Minha (Francis Hime e Ruy Guerra)
9- Song for Fran (Diogo Monzo)
10- Loro (Egberto Gismonti)
11- Com que Roupa (Noel Rosa)
12- Olhar de Princesa (Luiz Eça e Fernanda Quinderé)
13- Um a Zero (Pixinguinha)
14- Bim Bom (João Gilberto)
---
Diogo Monzo is an internationally renowned young musician and composer. He was selected one of the Top 5 in "Made in Jazz New York Competition", chosen as one of the best instrumentalists of the year by the website "best of the Brazilian music" – for his album "Meu Samba Parece Com Quê?". Author of the CD "Filho do Brasil", solo piano. Author of the CD "Luiz Eça by Diogo Monzo", a tribute in honour to the Brazilian pianist and composer Luiz Eça. Author of the book and the CD "Hinos Tradicionais Sob Uma Nova Concepção" (Traditional Anthems From a New Perspective) and the CD "Meu Samba Parece Com Quê?", which is participating of the 2016 audition and running as the greatest award of Brazilian music. He completed the master's degree in music at the University of Brasilia and has a Bachelor's Degree in Classic Piano from the Centro Universitário Conservatório Brasileiro de Música – RJ. He studied classic piano with teachers Maria Tereza Soares, Talita Peres e Maria Tereza Madeira. He is graduated in Functional Harmony at CIGAN – RJ. Berklee On The Road – The Art of Improvisation, with workshops on Songwriting, Arranging and with the pianist Laszlo Gardony. He studied improvisation and popular piano with the teachers Roberto Alves, Rafael Vernet, Cliff Korman and with the pianist and composer Jeff Gardner. He has been performing in several rooms, auditoriums, TV shows and festivals, such as room Baden Powell, Clube do Choro, Room Cecília Meireles, auditorium Lorenzo Fernandez, Casa Thomas Jefferson in Brasília, Sesc in Barra do Piraí, Festival Vale do Café, Ipiabas Blues Jazz Festival, Auditorium of Faculdade Batista do Rio de Janeiro, Sesc in Brasília, Festival Café Cachaça e Chorinho, in the project "Série Mini Recitais" transmitted by UnB TV, in the TV show "Músicas que Elevam" on Boa Vontade TV (Channel 20 of Sky, 212 of Oi TV), the TV show "Refrão" on TV Câmara on TV show "Espaço Cultural" on TV Senado and on TV show "Partituras" on TV BrasiL and in the program "Sem censura of TV Brasil". On December 4, 2015 he made his debut in Europe, where he performed three solo piano concerts in Hungary, Italy and Portugal. On May 21, 2016 he made his US debut in New York at the Tribeca Performing Arts Center along with jazz greats like Rufus Reid, Tommy Campbell, Philip Harper and Bobby Sanabria. Since then, Diogo has performed in Brazil and in several countries.