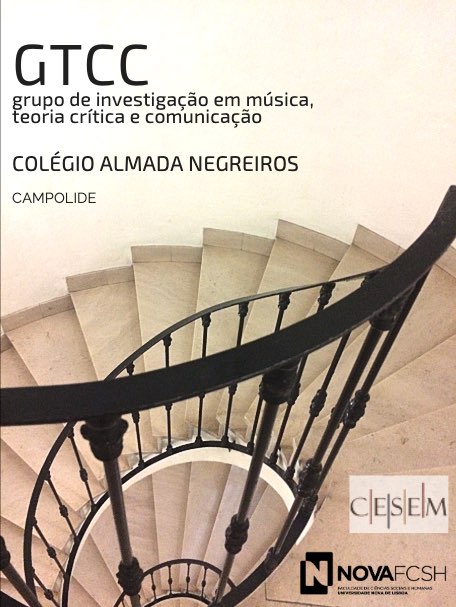 RGCTC is a research platform that brings together senior and junior researchers of different nationalities. It promotes integrated and interdisciplinary approaches to musical practices, cultures and behaviours according to social aspects, discussing the technologies, discourses, communication systems and power mechanisms that inform them, and locating these questions in current lines of enquiry in the social sciences. Therefore, music is studied not only as object but also as a source of knowledge.
The group's scientific output isn't confined to a specific time period or geographical place, to a thematic area or to the use of a limited set of methods. Its activities are defined by critical thought, interdisciplinary research methods and strategies, a great variety of study objects, the informed combination of approaches and points of view, and are in general characterised by a dialogic and dialectic line of thought.
RGCTC aggregates smaller groups and clusters that are formed according to projects and thematic affinity, maintaining nevertheless a constant dialog between them:
SociMus Advanced Studies in Music Sociology, that includes the following teams:
NEMI Studies in Music and the Press
CysMus Studies in Music and Cyberculture
NEGEM Studies in Music and Gender
NIM Studies in Musical Iconography
Intertextuality, Intermediality and Musical Signification
Music, Media and Technologies,
Opera, 'New Opera', Theatre, Media
Music and Literature
Ideology and Power – Music in Portugal XIX – XXI centuries
Philosophy, Aesthetic, Performance and Interartistic Studies
GTCC's researchers explore epistemological problems that also focus on musicology, observing its practices and ideologies, institutional organisation and paradigms. The integration and scientific support given to young researchers and teamwork are especially valued. The team promotes regular exchanges of information between its members, who are invited to present and discuss their work in an annual meeting taking place between May and July (in 2019 was the 8th Seminary of Music, Critical Theory and Communication). A programme of scientific meetings, symposia, workshops and other events, provides the organizational and methodological framework for the Group's general functioning, ensures communication dynamics and the attainment of the established goals. Our researchers are included in international networks of academic cooperation and carry out various outreach actions, which are manifest in the group's scientific and artistic output.
A selection of books by the group's members in the last four years:
Paulo Ferreira de CASTRO, Gilbert STÖCK, Katrin STÖCK (eds.), Essays on Music, Meaning and Society in Honour of Mário Vieira de Carvalho (Leipzig, Gudrun-Schröder-Verlag, 2015)
Jelena NOVAK, Postopera: Reinventing the Voice-Body (Ashgate, 2015)
João Pedro CACHOPO, Elisabete MARQUES, Emília Pinto de ALMEIDA, Filipe PINTO, Estética e Política entre as Artes (Lisboa, Edições 70, 2017)
Mário VIEIRA DE CARVALHO, Lopes-Graça e a modernidade musical (Lisboa, Guerra e Paz, 2017)
Paula GOMES-RIBEIRO, Joana FREITAS, Júlia DURAND, André MALHADO (eds.), Log In, Live On: Música e Cibercultura na era da Internet das Coisas (Lisboa, Húmus, 2018)
Heloísa VALENTE (ed.), A canção romântica no Brasil dos "anos de chumbo": Paisagens sonoras e imaginário na cultura midiática (São Paulo, 2018)