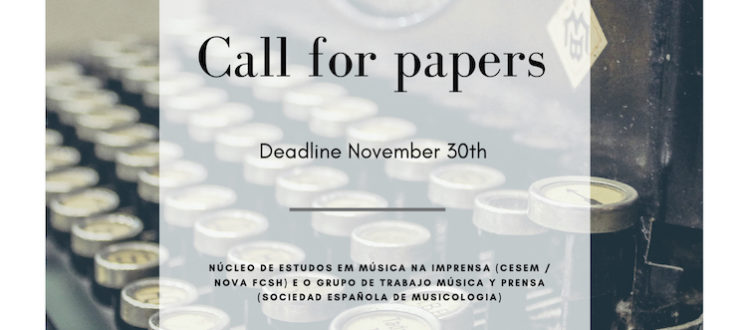 Call for papers international conference III NEMI Meeting – 9th MUSPRES
The international conference III NEMI Meeting and 9th MUSPRES "Facing the musical premiere in the press: promotion, dissemination, reception and criticism", jointly organized by the Research Cluster of Music in the Press (CESEM / NOVA FCSH) and the Grupo de Trabajo Música y Prensa (Sociedad Española de Musicologia), will take place on May 27-28, 2021, at the Faculdade de Ciências Sociais e Humanas, Universidade Nova de Lisboa (Campolide Campus), in Lisbon.
This conference aims to debate the premiere of musical works through the press, from the 19th century to the present. Taking into account the multiple issues of the theme, such as temporality, collective memory and history, and their differentiated meaning according to musical genres, we seek to reflect on the mechanisms, discourses, objectives and role of the press (on reports, news, announcements, articles, opinion and musical criticism) around premieres of musical works. In short, how the press deals with novelty and what role it plays in disseminating, anticipating and receiving the work and preparing the public. Likewise, it also seems relevant to reflect on how the press can shape the very notion of premiere in different musical contexts.
The call for papers is open until November 30th. For more informations please visit the conference site, https://nemimuspres.weebly.com, or contact the organization by email, congreso.nemimuspres@gmail.com.