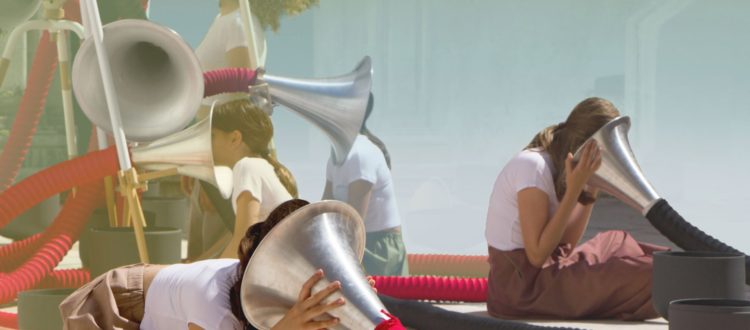 Project with CESEM researchers WON an AWARD in the Young Audience Music Awards (YAMawards) 2020
The Theatrical Music Company was nominated for the Young Audience Music Awards (YAMawards) 2020 won an award in the categorie of Best Participatory Project with the Murmuratorium artistic creation.
The YAMawards aim to identify and support productions from around the world that inspire and involve young people and distinguish creativity and innovation from musical productions for audiences in this age group. The awards are given by the organization Jeunesses Musicales International (JMI), an organization that stands out for defending that access to music and culture are fundamental rights for all children and young people.
Murmuratorium is both a participatory musician-theatrical performance and an installation that can be explored in a free and informal register. Giving voice to "delicacy", "listening" and "revelation of the beautiful", the need to "be together" in a poetic and sensitive way, Murmuratorium joins children, adolescents and young people on a "journey" through an art that is also a process of "Tuning" between people and the world. Murmuratorium was a co-production of Companhia de Música Teatral with Teatro Aveirense and Musiquim, having been developed locally with a group of teenagers and young people who integrated elements of CMT-Kids and Dancenter in Aveiro and Musiquim in the Azores.
The Companhia de Música Teatral has stood out nationally and internationally for the originality of its artistic proposals and for the innovative character of its educational proposals. The CMT's philosophical matrix is ​​based on the creation of relationships between art and education, on the articulation between academic research, artistic production, technological creation, community involvement and the dissemination of the importance of musical experience and art in general in social development and human.
Starting from Music and looking for the interaction between various languages ​​of artistic communication, CMT has built a model of work that it has been calling "artistic-educational constellations". This model has enabled a healthy dialogue between academia, cultural institutions and civil society. Several of its founding members and collaborators are linked to two of the most important research centers in the country (CESEM and INET-md), to the Universidade NOVA de Lisboa and Universidade de Aveiro, contributing to a relevant university extension work and for the art is available to everyone. CMT collaborates with experienced artists as well as young artists at the beginning of their careers, and its "immersive training" model is sought after internationally.
Thanks to the support of the Calouste Gulbenkian Foundation, CMT conceived and carried out the Opus Tutti and GermInArte projects, internationally renowned for the uniqueness and quality of its artistic and educational proposals. The stable support of DGArtes, and relationships of ethical and artistic complicity with some partners, have been crucial to the work carried out by CMT.