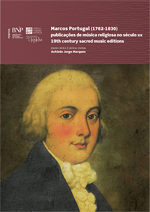 Book release and Concert: Marcos Portugal (1762-1830): 19th Century Sacred Music Editions
LAUNCH / CONCERT | Oct 21 '17 | 4:00 pm | BNP Auditorium | Free entry
The work, with a critical edition by António Jorge Marques and co-edition by the National Library of Portugal, Lisbon City Choir and CESEM – Center for Studies in Sociology and Musical Aesthetics (with support from DGArtes), is presented by Manuel Pedro Ferreira, David Cranmer and António Jorge Marques.
In absolute terms Marcos Portugal was the most famous Portuguese-Brazilian composer of all time. In Europe, his notoriety was mainly due to the dramatic genre, but in Portugal and Brazil his religious music had an influence that lasted more than 100 years. Despite this, commercial editions remain a rarity. The launch of a volume with four critical editions is an unusual event that will contribute to publicize the author's work, both in Portugal and abroad.
One of the most paradigmatic works of the 19th century (in Portugal and Brazil) was Te Deum Ré M (P 04.08; 1802), written to celebrate the birth of the infant D. Miguel; the critical edition of the second version for soloists, choir and obbligato organ is included in this volume. It was the most international religious work by Marcos Portugal and the one that had the widest dissemination, partly due to the efforts of the master of the Chapel of the Royal Embassy of Portugal in London, Vincent Novello (1781-1861), who published three of the eight sections of the work in arrangements of his own. In addition to this, three more religious works by the composer got to know the letter printed in the 19th century and are also included in this volume: the Missa Sib M (1783-84) (P 01.17) – also published by Vincent Novello in London, the Tatum ergo Mib M (ca 1792-1810) (P 04.04) – published in Paris, and O quam suavis Fá M (ca 1800-10) (P 05.11) – published in London.
Program
O quam suavis Fá M (P 05.11, V1) | Modern debut
Margarida Simões, soprano
Luísa Toledo, soprano
Tantum ergo Mi b M (P 04.04, V1)
Joseph Ngongo, basso
Te Deum Ré M (P 04.08, V2)
. Fiat misericordia
. In te Domine speravi
Mariana Monteiro, contralto
Missa Si b M (P 01.17, V1) | Moder eebut (partial)
. Sanctus
Lisbon City Choir
Positive organ: Sérgio Silva
Direction: Teresita Gutierrez Marques