Book release: Niccolò Jommelli's Laudate Pueri Dominum from Biblioteca Nacional de Portugal
01/06/2022 @ 18:00

-

20:00

WEST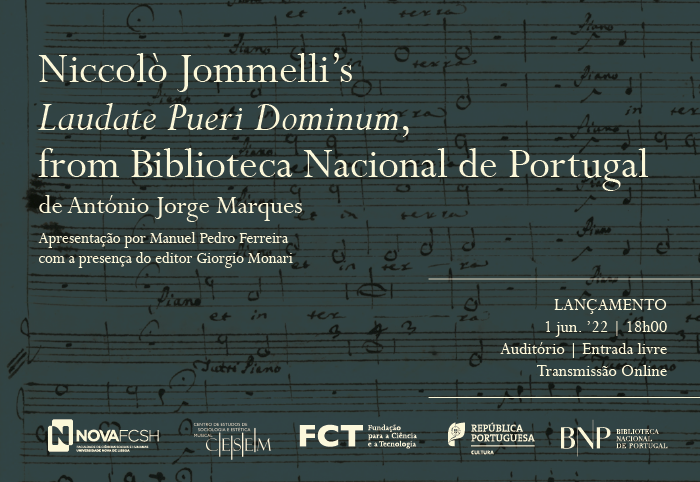 In 2021, Libreria Musicale Italiana and the Centro Studi Santa Giacinta Marescotti (Saggi Ruspoli) published a book dedicated to a Laudate pueri Dominum by Niccolò Jommelli (1714-1774), whose only known source is housed at the BNP (F.C.R. 549). It is the autograph of a monumental work for 4 choirs (16 voices) and basso continuo (3 organs). Because it lacks the first gathering, where the author's name, title and year of composition were originally recorded, as well as the institution to which it was destined, the work remained in an anonymous limbo for over a hundred years. Through comparative calligraphic analysis, carried out by António Jorge Marques, it was possible to attribute the work to Niccolò Jommelli who, at the time of his death, was considered one of the greatest living composers.
Written for Saint Peter's Basilica in Rome (1750), the work is unique within the context of Jommelli's sacred polychoral production. In addition to being his debut work at the Vatican Basilica, the polychoral textures contained therein demonstrate a high degree of experimentation by the composer, who had recently been hired as assistant conductor at the institution. In it, Jommelli used two choirs placed on the balcony below the Basilica's large dome, 53 meters from the choirs placed next to the altar. This publication has its genesis in an essay that won a special mention at the 6th International Competition for Musicological Studies Principe Francesco Maria Ruspoli – Vignanello (2014).
At the request of the editor, Giorgio Monari, and to bring to life this precious patrimony, allowing an in-depth study by specialists and making it known to the music-loving public, the second part of the book includes the reconstruction and critical edition of the Laudate pueri Dominum.