International Symposium Pe. José Maurício Nunes Garcia: 250 anos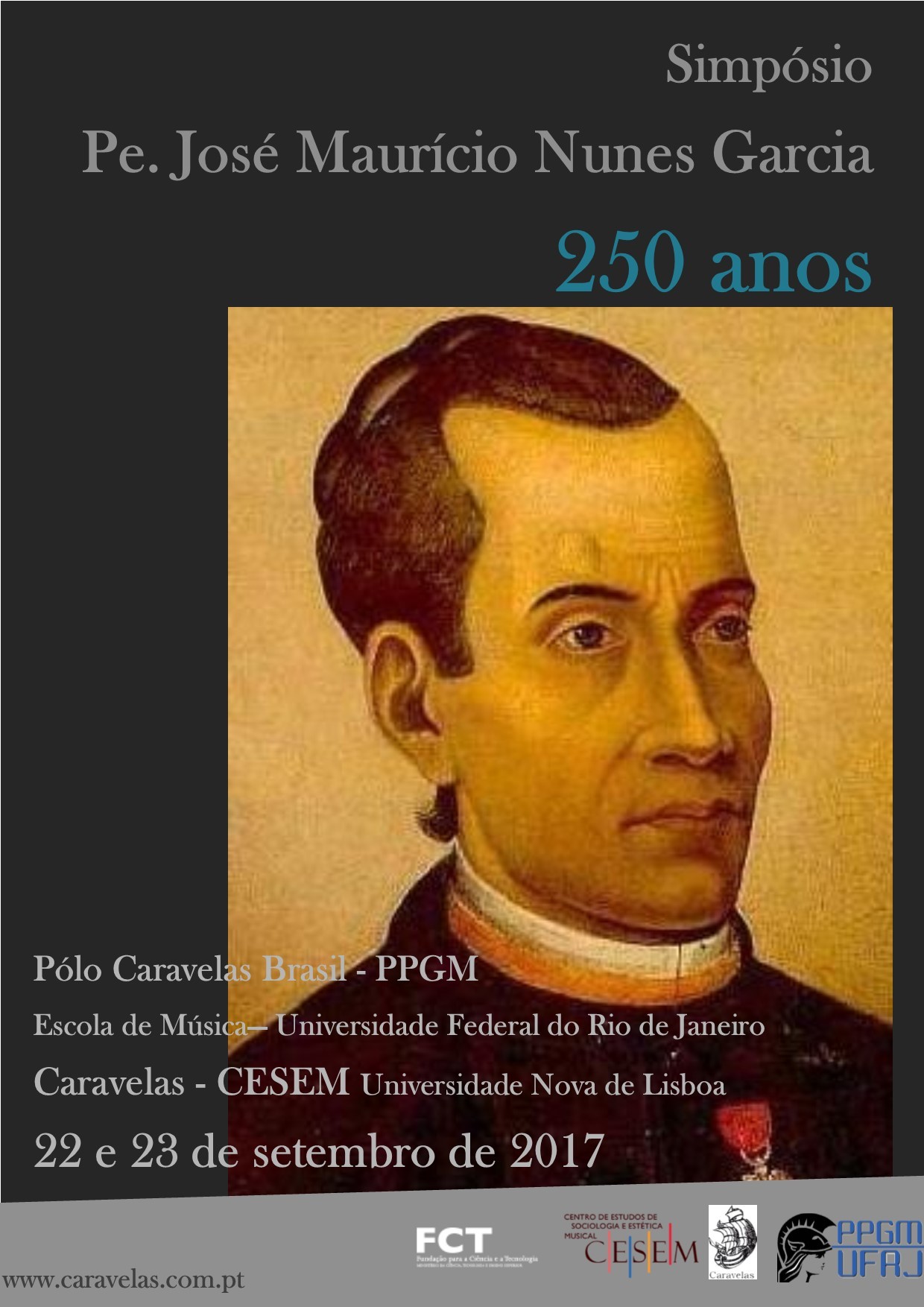 On September 22, 1767, Fr. José Maurício Nunes Garcia (1767-1830) was born, the one who would become the most important Brazilian composer in activity in the early 1800s. His performance as Mestre Capela of the Royal / Imperial Chapel of Rio de Janeiro would also make him one of the most influential figures in the Portuguese-Brazilian music scene of those days. Bearing this in mind, Caravelas (Research Center for the History of Luso-Brazilian Music – CESEM – Universidade Nova de Lisboa), through the Caravelas Brasil Pole (PPGM-UFRJ Research Group), will hold a Symposium to celebrate its 250th anniversary of birth of the composer on September 22 and 23, 2017.
This symposium will start on the day that Father Mestre's 250th birthday is celebrated. Its organization includes conferences, round tables, communication presentations and a commemorative concert.
The main objective of the congress is to offer a space for academic debates on the figure and work of the Brazilian composer Fr. José Maurício Nunes Garcia, making a critical assessment of his role within the history of Luso-Brazilian music and disseminating the results of the latest research pertinent to the theme.
The Symposium will last two days and includes the following activities:
Round tables: formed by invited experts, whose research and interpretive work has made a relevant contribution to the subject in question.
Communication tables: formed by researchers who sent communication proposals for the event. The communication proposals received will be evaluated by the scientific committee (in pairs). Up to 15 communications will be approved that show scientific merit and that have the theme of Fr. José Maurício Nunes Garcia, or the contemporary musical universe to him. If the number of relevant proposals exceeds the number of 15, the Organizing Committee may evaluate the possibility of making communication tables in parallel.
Concert: This Commemorative Concert will be held on the night of Fr. José Maurício Nunes Garcia's birthday, September 22nd. It will take place in the Sala Leopoldo Miguez of the UFRJ School of Music, having as repertoire works by Padre Mestre, or by contemporary composers. Interpreters will be invited among teachers and students at the School of Music and among the researchers participating in the congress.
As a final product, we intend to produce a Symposium Act, or communications selection book, which brings together works presented at the event. In turn, the Commemorative Concert will be filmed and made available on the Internet.