CESEM's Regular Research Symposium: Session #10
16/12/2021 @ 14:00

-

15:00

WET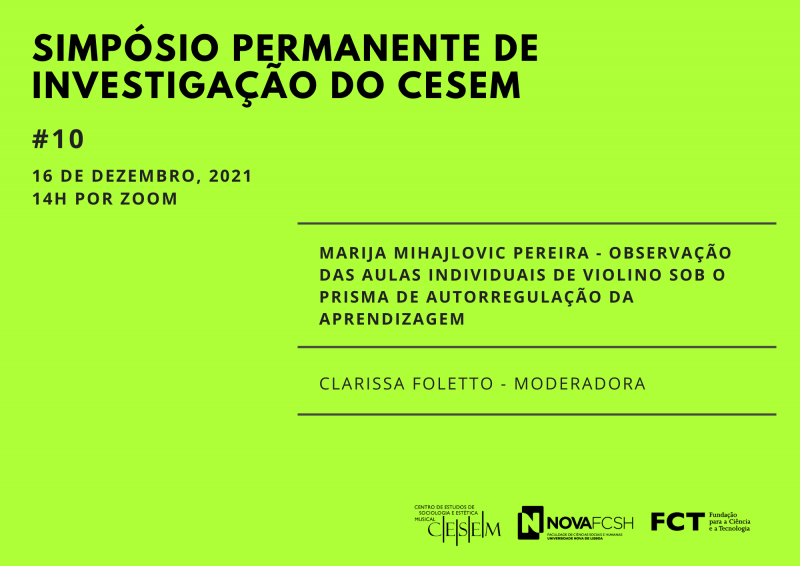 CESEM's Regular Research Symposium aims to present to its community and the general public its researchers, as well as their academic and professional backgrounds and their work at CESEM, especially the project(s) on which they are currently working or will develop in the near future.
Each bimonthly session (the first five sessions will occur weekly, however) will last one hour and will be moderated by another member of the centre. In the first 20-25 minutes the featured researcher will carry out her/his presentation. In the remaining time, the public may pose questions or make suggestions or commentaries.
Until all face-to-face activities are resumed, the sessions will take place virtually through Zoom. With the authorization of the researchers, the sessions will be streamed on CESEM's Youtube channel and/or will be available on the channel, allowing the general public to watch them and write questions, suggestions and commentaries (which may alternatively be sent to the researcher by email).
CESEM's newly designed newsletter will complement this initiative by sharing with its subscribers information on the sessions and the projects presented.
---
SESSION #10 – Moderator: Clarissa Foletto (INET-md)
Marija Mihajlovic Pereira (Education and Human Development Research Group) –
Observação das aulas individuais de violino sob o prisma de autorregulação da aprendizagem