Film Cycles MUSIC IN FRAMES: Schaeffer's error? #5
17/12/2021 @ 19:00

-

21:00

WET
Music in Frames I: Schaeffer's error?
By the Music and Thought Research Cluster
Fall of 2021
MUSIC IN FRAMES Film Cycles
"Music in Frames" is an initiative of CESEM's Critical Theory and Communication Group that aims to discuss relevant topics across musicology and cinema. Taking place in the fall and spring in various locations in Lisbon, each cycle will be programmed by one of the GTCC's research lines or clusters.
Among the ideas that characterise the speculative legacy of Pierre Shaeffer we find the controversial and intriguing "acousmatic listening," which proposes a "reduced listening" that presupposes the existence of latent meanings in the listener's experience, as well as the permanence of a stage prior to the known language and all the references associated with each sound. Acousmatic listening becomes more effective the more we use recording and reproduction technologies that separate sound from its source, and the more our attention is focused on the act of listening itself.
Drawing on the problematization of the original's aura as proposed by Walter Benjamin, the resulting dichotomy between original and copy (transience and fixation), and the strangeness that results from the dissociation between voice and body, this cinematic cycle aims to reflect on the meaning of listening in the relationships we entertain with sound recording, with the copies we make of it, and with the extensive interventions to which we subject it.
---
---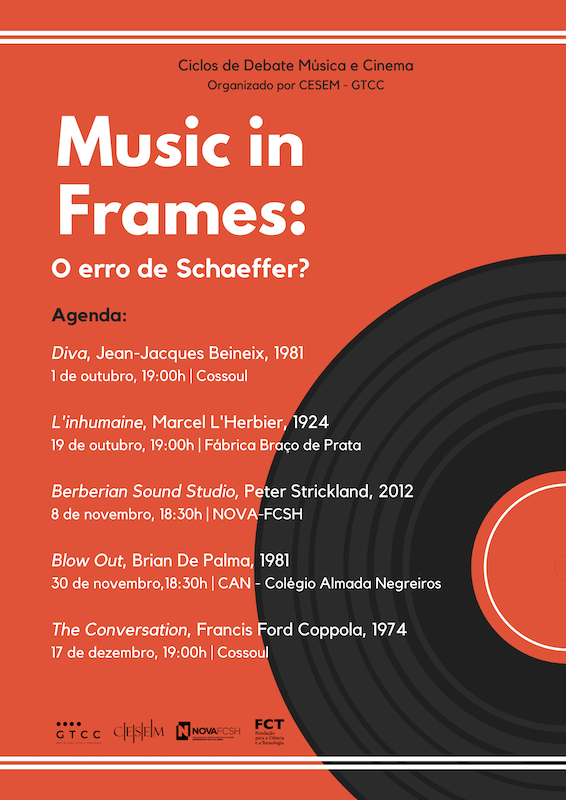 The first session will focus on Jean-Jacques Beineix's 1981 film Diva and will be led by João Pedro Cachopo. Subsequent sessions will follow on Marcel L'Herbier's 1924 L'inhumaine (by Bárbara Carvalho), Peter Strickland's 2012 Berberian Sound Studio (by Filipa Cruz), Brian De Palma's 1981 Blow Out (by Guilherme Granato), and Francis Ford Coppola's 1974 The Conversation (by Nuno Fonseca).