Resvés Opera #5 – The Sleeping Thousand
April 12 @ 17:00

-

18:30

WEST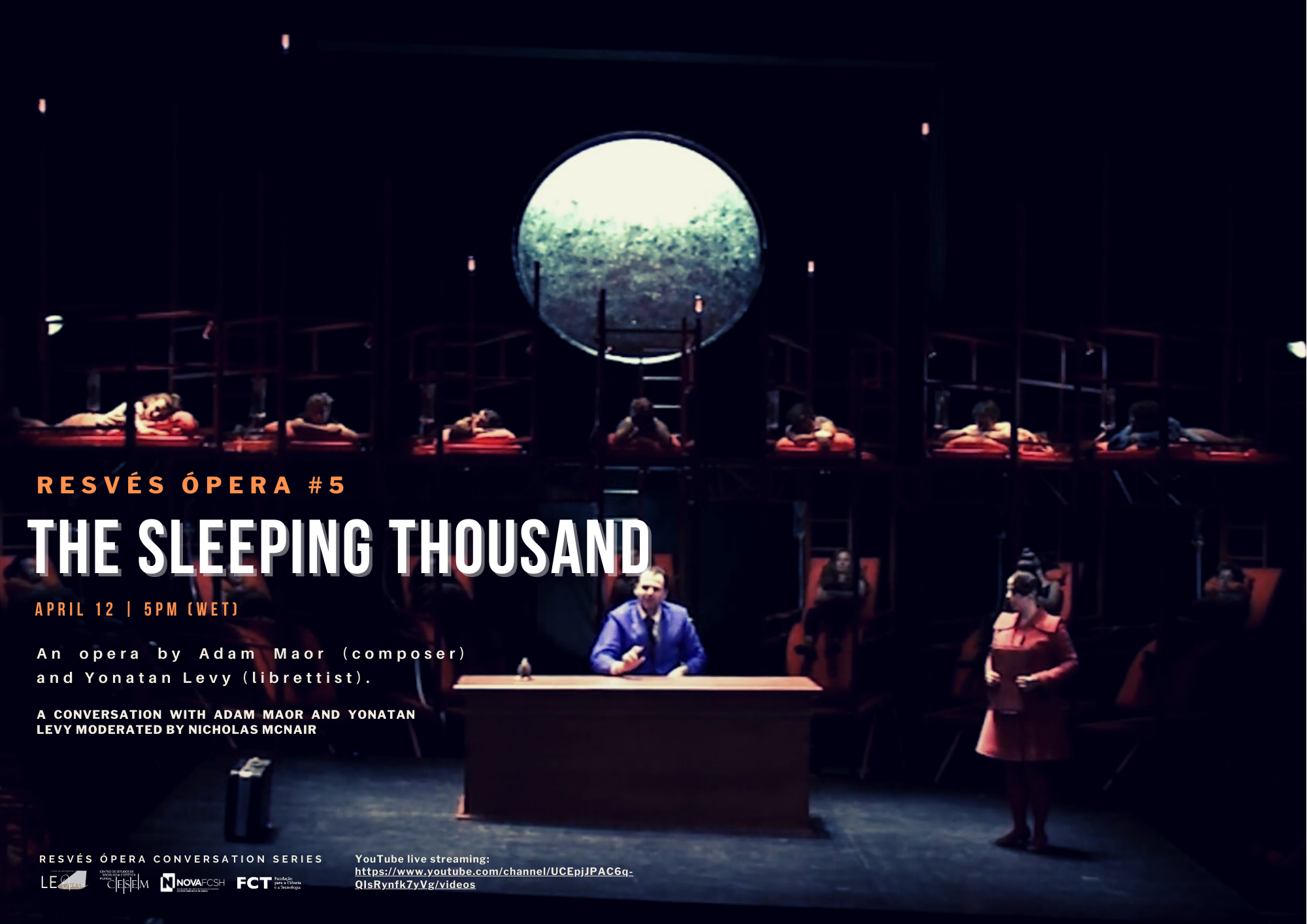 A conversation in English with Yonatan Levy and Adam Maor, creators of the opera Sleeping Thousand (2019 – Portuguese premiere at the Gulbenkian Foundation in January 2020), moderated by Nicholas McNair.
Yonatan Levy (b. 1974): director, playwright, journalist, Waldorf educator and social entrepreneur. He directed and wrote the libretto for "The Sleeping Thousand" (Music by Adam Maor) premiered at the Festival d'Aix-en-Provence 2019 with the collaboration of the Théâtre de la Ville de Luxembourg.  His work "Saddam Hussein – A Mystery Play" (text, direction, design and music) was presented at the Theater der Welt festival in Mannheim, Pilsen Theatre Festival and the Schaubühne F.I.N.D festival, Berlin. Levy co-founded the Waldorf Shakked High School, the Sheik Abreik Festival of Civil Culture and the Social Arts Mill, all in his hometown of Kiryat-Tivon, Israel.
Adam Maor, an Israeli composer, was born in 1983 in Haifa, a city where he was a composition student of Eitan Steinberg. He also studied with Michaël Jarrell, Luis Naón and Eric Daubresse in Geneva. In 2011 he attended the IRCAM electronic music course in Paris. At the same time he began a course in classical Arabic music, studying the oud with Mohammed Abozekry and Michel Arkach. His work develops the question of Israeli musical identity, as can be seen in the chamber opera The Sleeping Thousand, while drawing inspiration from the fundamental structures of traditional Arabic music. From 2016 to 2018 he was the assistant artistic director at Tzlil Meudcan Festival in Tel Aviv.
---
Libretto in EN here (only accessible to researchers from the CESEM's Critical Theory and Communication Research Group)
Opera video in YT here.