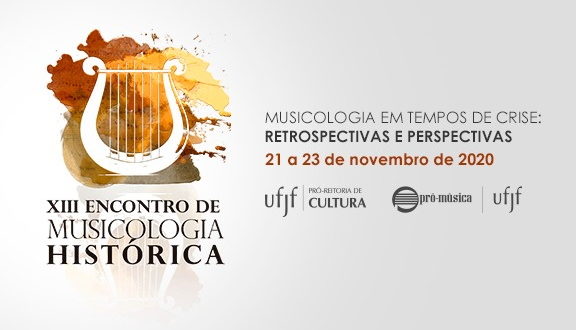 CESEM's Researchers in a round table in the XIII Encounters of Historical Musicology: Paula Gomes-Ribeiro, André Malhado and Heloísa Valente
Paula Gomes-Ribeiro, André Malhado and Heloísa Valente formed the round table on Musicology and Cyberculture, which closed the XIII Encounters of Historical Musicology, promoted by the Cultural Center Pro-Music of the Federal University of Juiz de Fora, this year under the theme "Musicology in times of crisis: retrospectives and perspectives ". The event took place between November 21st and 23rd and could be viewed online.
These meetings have become an important space for the dissemination and discussion of the most recent academic and scientific production within the scope of Portuguese-Brazilian musicology. Considering the broad spectrum of musicology as a study of music in all its manifestations, perspectives and interactions with the different areas of human knowledge, the XIII Meeting maintains its primary link with historical musicology, as well as opening up to the dimension of systematic musicology and for the understanding of a priori elements external to the traditional material of musical production, but today essential to its creation, performance, diffusion and appreciation.
Such discussion becomes even more fundamental in 2020, when a crisis of global and unusual proportions, resulting from the pandemic of the new coronavirus, affects the planet, generating uncertainty, the need for new socio-political paradigms, dis (re) structuring the entire cultural, artistic and musical production. In this context, the XIII Meeting takes on the challenge of discussing "Musicology in times of crisis: retrospectives and perspectives".
Today, yesterday and tomorrow merge into three round tables that will discuss the historical and systematic aspects, the local and the global, such as the challenges of musicology in the pandemic scenario, the trajectory of the harpsichord in Rio de Janeiro in the 20th century, the multiple and prolific intersections of musicology (and music) with the cyberculture universe.
Counting with leading researchers in the topics covered, the XIII Meeting took on, in the face of public health demands, a virtual and online format, and took place on three consecutive days. In this edition, due to the challenges of a new execution and transmission platform, the thematic sessions with registered communications were not carried out.
In view of the new, the XIII Meeting of Historical Musicology reinvented itself, but it preserved its essence of reflecting, discussing and proposing ways to strengthen a fundamental discipline for the understanding of the paths trodden by humanity.
The Meeting was broadcast openly on the UFJF YouTube channel: tvufjf (https://www.youtube.com/tvufjf).