Resvés Ópera
Series of Conversations
2020-21
Opera Studies Research Line
Centre for the Study of the Sociology and Aesthetics of Music
In pandemic times, one feels like saying: it was "resvés opera" (the Portuguese word "resvés" connotes a perilous situation in which disaster is avoided by a hair's breadth). And that's exactly what this series of conversations is all about: dangers and thresholds, turns and alliances, metamorphoses and transgressions.
Despite the upheaval and uncertainty, the vitality of the operatic genre seems unquestionable today. Perhaps because, in more than one sense – and right from the start with regard to its concept and its existence – opera has always happened in extremis.
In choosing this title for this series of conversations, we seek to highlight the play, which has always existed and currently intensifies in countless directions, between opera, theatre, music, dance, performance, installation, architecture, cinema, video and multimedia arts.
Each meeting will focus on a particular event or object (a production, a recording, a book, an edition, an installation), which will serve as a motto for a conversation, involving artists, composers, performers, stage directors, filmmakers, programmers or musicologists.
Organized within the scope of CESEM's Opera Studies Research Line, these meetings will take place, throughout the 2020/21 academic year, on digital platforms.
Resvés Opera #3: A conversation with Vincent Huguet
Vincent Huguet is a French dramaturg and opera stage director. He has collaborated with several artists such as Patrice Chéreau, Luc Bondy, Peter Sellars and Ivo van Hove. Among his recent productions are Purcell's Dido and Eneas (Festival Aix-en-Provence), Massenet's Manon (Opera National de Paris) and Poulenc's La Voix Humaine, performed at Fundação Calouste Gulbenkian in December 2020.
In this conversation Vincent Huguet, Livia Sabag and Ligiana Costa will discuss opera staging, dramaturgy, recording and live transmission in pandemic times, taking the performance of La Voix Humaine as a starting point.
Resvés Opera # 2 | Conversation about "Twilight: Gods", a drive-in adaptation of Wagner's Götterdämmerung by Yuval Sharon
Yuval Sharon has amassed an unconventional body of work that expands the operatic form. He is founder and Artistic Director of The Industry in Los Angeles and the newly appointed Artistic Director of Detroit's Michigan Opera Theatre.
His first production in Detroit, Twilight: Gods, an adaptation of Wagner's Götterdämmerung, is a one-of-a-kind operatic experience inside the Detroit Opera House Parking Center. Part live performance, part immersive installation, audiences remain in their cars to experience scenes from the final opera of Wagner's Ring Cycle on various levels of the parking structure.
Taking this production as a starting point, Yuval Sharon will discuss opera's post-pandemic revival in a conversation with Luís Soldado and João Pedro Cachopo.
Resvés Opera # 1 | Conversation about ``7 Deaths of Maria Callas`` by M. Abramović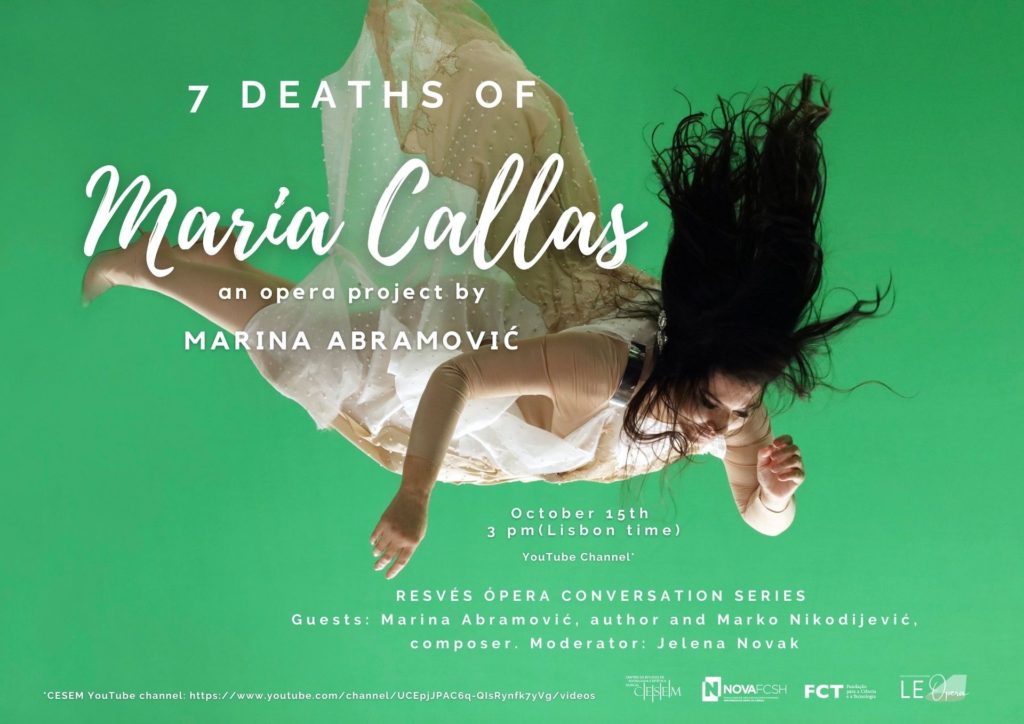 Marina Abramović, 'the grandmother of performance art', has been fascinated by the character and work of soprano Maria Callas since her childhood. As time went on, Marina realized that the two of them have a lot in common. The result of this affection is Abramović's opera project 7 Deaths of Maria Callas about the famous diva and her stage deaths (La traviata, Otello, Tosca, Madama Butterfly, Carmen, Lucia di Lammermoor, Norma). However, 7 Deaths is primarily about Abramović herself, her art, her own status of diva, her rise on international art scene, her performances, suffocations, motionless sitting, undressing, her body and voice, her unhappy relationships.
7 Deaths of Maria Callas had its world premiere on 1st September 2020 at the Bayerische Staatsoper. In it, seven singers sing seven arias from operas by Verdi, Puccini, Bizet, Bellini and Donizetti. Composer Marko Nikodijević stands behind the musical tissue that opens and closes the piece and connects its inner parts.
Resvés Ópera – Conversation Series is an initiative by CESEM's Linha de Estudos da Opera. Despite the upheaval and uncertainty, the vitality of the opera seems unquestionable today. Dangers and thresholds, turns and alliances, metamorphoses and transgressions are our points of interest in the opera world today.
Our first conversation, moderated by Jelena Novak, features Marina Abramović and Marko Nikodijević.
Thursday | 15th October 2020 | 3 p.m. (GMT + 1)