3rd NEGEM Symposium – Music, gender, politics and society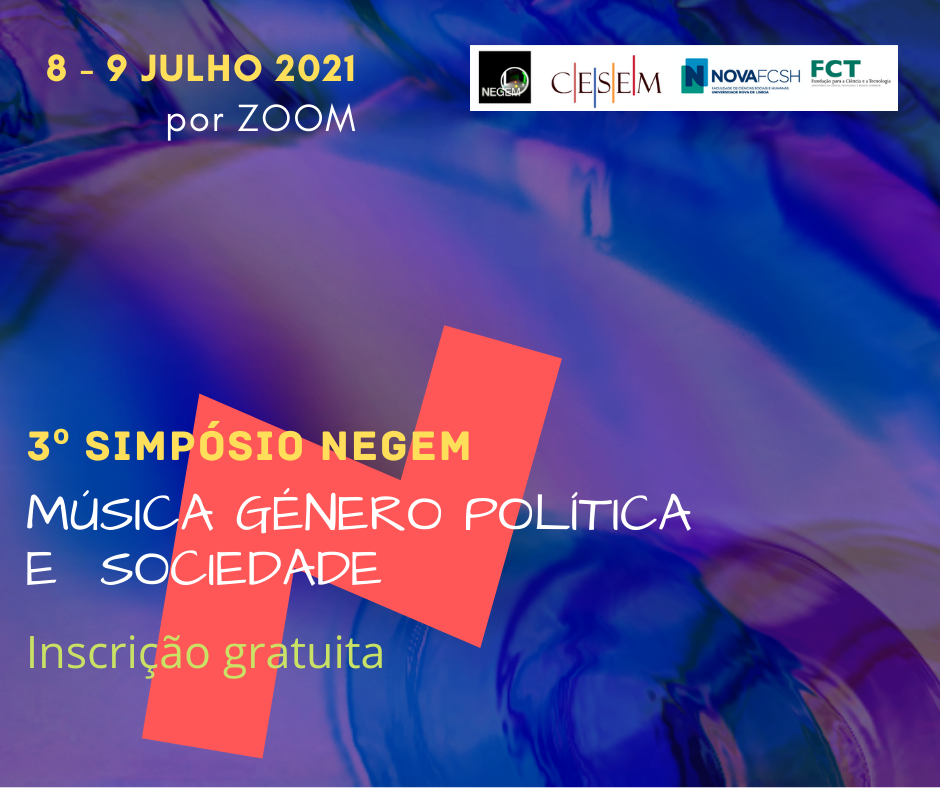 On the 8th and 9th of July, the 3rd symposium of the nucleus of advanced studies in gender and music, of CESEM, of the NEW Faculty of Social and Human Sciences, will take place. The meeting is open and takes place entirely online, by Zoom, with free assistance and only requiring the completion of a request form at the link https://forms.gle/FfUyejmyEoFCoir27.
Over a morning (Thursday, July 8th) and an afternoon (Thursday, July 9th) a series of exhibitions, debates, music, round tables, audiovisuals and the presentation of a new book take place. , by researchers, students, artists, music critics, members and guests of NEGEM. Starting from studies in music and focusing on sound practices, a diversity of themes related to gender 'performativity' (Butler), stereotypes and power structures, gender violence, LGBTI+ culture, Queer, stratification and discrimination processes are addressed. in musical production and in historical narratives about music and sound, representations of gender and sexuality in audiovisuals, among others.
Two moments of discussion based on iconic documentaries stand out, respectively 'Paris is Burning' directed and written by Jennie Livingston (1990) and 'Sisters with transistors', by Lisa Rovner (2021), a roundtable on music as LGBTI+ culture and gender, with the collaboration of the esQrever project, a presentation and debate on one of the songs and videos by composer and interpreter Teresa Gentil, two communication panels on representations of gender and sexuality in audiovisual productions and women, gender, its construction and its erasure, and even the presentation of the book (in pre-release) Musical Trouble: Music, Gender and Sexuality by its coordinators.
Open and free event. It takes place online, by Zoom, and only requires an entry at https://forms.gle/FfUyejmyEoFCoir27.