"Forensic Heritage" – Seminário IN2PAST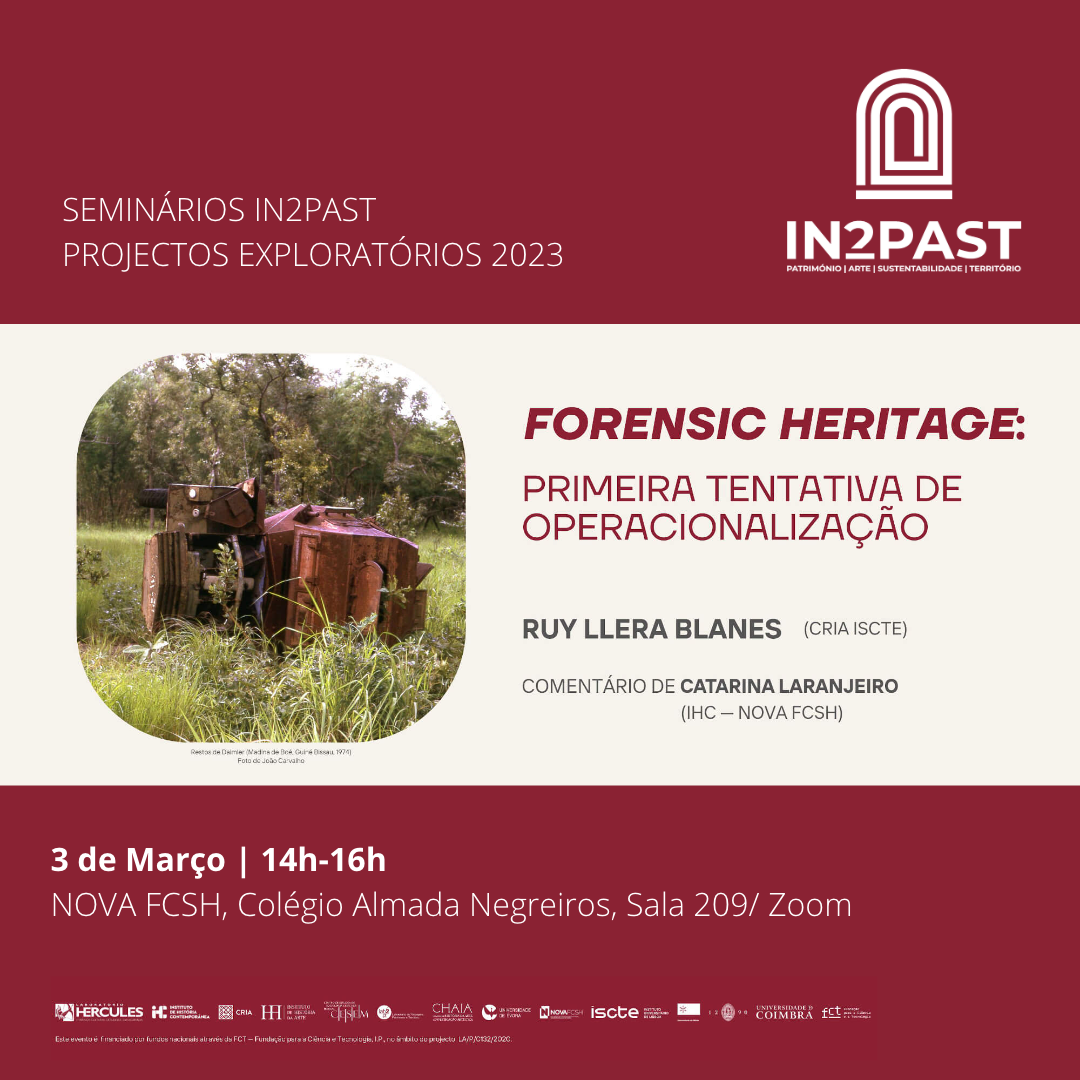 Forensic Heritage: Primeira Tentativa de Operacionalização
Apresentação de Ruy Llera Blanes (IR; CRIA ISCTE) e demais equipa do projecto: Pedro Aires Oliveira (IHC — NOVA FCSH), Víctor Barros (Casa de Velazquez), Xurxo Ayán (IHC — NOVA FCSH), Marta Prista (CRIA ISCTE), Maria Cardeira da Silva (CRIA — NOVA FCSH), Fátima Ferreira (Lab2PT) e Francisco Mendes (Lab2PT).
Comentários de Catarina Laranjeiro (IHC — NOVA FCSH)
O projeto exploratório "Landscapes of Terror, Violence and Forensic Heritages in the Postcolonial Lusophone space" tem como objectivo desenvolver uma agenda de investigação sobre como a violência se inscreve em regimes de memória e patrimoniais no contexto pós-colonial do colonialismo português e o espaço lusófono pós-colonial. Estamos interessados em compreender a especificidade material, paisagística e simbólica da "mobilização patrimonial" neste contexto empírico, de forma a explorar os (desiguais) processos de patrimonialização da história de violências coloniais e pós-coloniais. Nesta apresentação propomos testar e operacionalizar a principal contribuição conceptual do projeto – a ideia de "forensic heritage" – através da invocação e discussão de estudos de caso empíricos, baseados em pesquisas actuais e anteriores efetuadas por membros da equipa. Procuraremos focar em casos concretos – lugares, paisagens, edifícios, ruínas ou discursos – nos contextos pós-coloniais de Etiópia, Angola e Guiné-Bissau, ou pós-ditatoriais como Portugal e Espanha.
Começaremos com um debate crítico em torno do conceito de "forensic heritage" e a sua possível relevância para os estudos do património, e depois focaremos nos referidos estudos de caso, a partir das seguintes perguntas: De que tipo de "lugares" estamos a falar? Quais foram as memorializações e patrimonializações "possíveis" nos contextos pós-coloniais? Quais as ausências e silêncios associados ou resultados desses processos de patrimonialização? Que tipo de consequências ou efeitos materiais e simbólicos é que surgem em torno desses processos? Que tipos de acolhimento e/ou contestação é que emergem em resposta?
Link para sessão zoom 
3 de Março, 2023 | 14h-16h
NOVA FCSH, Colégio Almada Negreiros, Sala 209
Campus de Campolide da NOVA — 1099-085 Lisboa