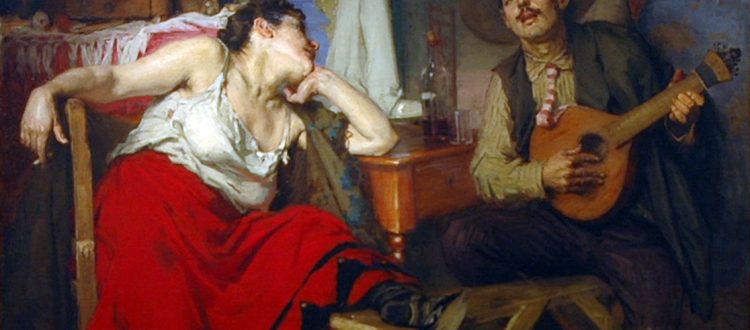 Registrations Open for the CESEM/NOVA FCSH Summer Course: Museology and Music – Musical Artistic Heritage of Portuguese Museums
Dates: 5 – 7 August | working days 10h00 – 13h00 and 14h00 – 16h00
Teacher: Luzia Aurora Rocha
Areas: History of Art, Artistic Studies and History, Heritage and Culture
It is the aim of this course to provide tools to enable the scientific study of musical motifs in works of art with particular emphasis on the heritage of Portuguese Museums. This course is intended for museum technicians and private collectors, researchers and teachers (basic, secondary and higher education) who wish to extend their area of knowledge to the musical and musicological level and to a general public who wishes to obtain knowledge about the proposed theme . Detailed works of art selected for this particular course will be analyzed and worked in detail, which are found in collections worthy of registration, working at the level of music iconography, organology, museology and history of music.
---
Bibliography
BRENNER, B. (2016). Does music matter to museum visitors?: Understanding the effect of music in an exhibit on the visitor experience. Dissertação de mestrado, University of Washington; https://search.proquest.com/docview/1804414286?accountid=14784
ROCHA, Luzia, Equipo UCM (2013). "Tesauro escenas: Iconclass (en español/portugués)", in Imagenes Musica. Madrid: AEDOM, CD-Rom, pp. 294-443.
GÉTREAU, Florence, "Curt Sachs and his Contribution to the Museology of Music". in Klang, Gedanke, Instrument. Curt Sachs und die Musikwissenschaft heute, Sep 2006, Berlin, Germany. Schott. Staatliches Institut für Musikforschung Preussischer Kulturbesitz, Vom Sammeln, Klassifizieren und Interpretieren. Die zerstörte Vielfalt des Curt Sachs, 6,pp.99-109., 2017
ROCHA, Luzia (2003). Images of Music – A Cultural Heritage, textos vários incluídos em 3 CD- Rom, 2003, Programa Europeu Culture 2000.
ROCHA, Luzia, Equipo UCM, Tesauro instrumentos musicales: Hornbostel&Sachs (en español/portugués, in Imagenes Musica, Cristina Bordas Ibañez e Isabel Rodriguez López (ed), AEDOM, Madrid, 2013, CD-Rom, pp. 239-293.
ROCHA, Luzia. O retrato de Scarlatti na Casa dos Patudos, in Glosas, Nº12, (ISSN: 2182-1380) Maio 2015, pp. 4-5.
ROCHA, Luzia, Catalogação dos instrumentos musicais de ópera chinesa da Colecção Kwok On, A Ópera Chinesa/The Chinese Opera. Lisboa: Fundação Oriente, 2016, pp. 134-139.
ROCHA, Luzia, PRATES, Nuno. A iconografia musical na colecção de leques da Casa dos Patudos: análise de aspectos temáticos e organológicos in Cuadernos de Iconografia, Universidad Autónoma de México, vol. 2, número 1, Junho de 2015, (publicação em livro e electrónica) ISSN 2448-5969 http://www.cuadernosdeiconografia.posgrado.unam.mx/musica/cuadernos/index.php/CIM/issue/view/3
ROCHA, Luzia, Luís Sousa, UCM/PRADO, et al (2013). "Bases de datos internacionales y nacionales: hacia un repertorio hispano-portugués. Las propuestas hispano portuguesas", in Imagenes Musica. Madrid: AEDOM, CD-Rom, pp. 82-108
ROCHA, Luzia e Sónia Duarte (eds) (2017). Iconografia Musical – Organologia, construtores e práticas musicais em diálogo. Lisboa: NIM – Centro de Estudos de Sociologia e Estética Musical, FCSH-UNL ISBN 978-989-99975-7-8 https://cesem.fcsh.unl.pt/2018/03/09/nova-publicacao-do-nucleo-de-iconografia-musical-organologia-construtores-e-pratica-musical-em-dialogo/