Exhibition: Watermarks and Handwriting in Music Paper. The manuscripts of the Count of Redondo Collection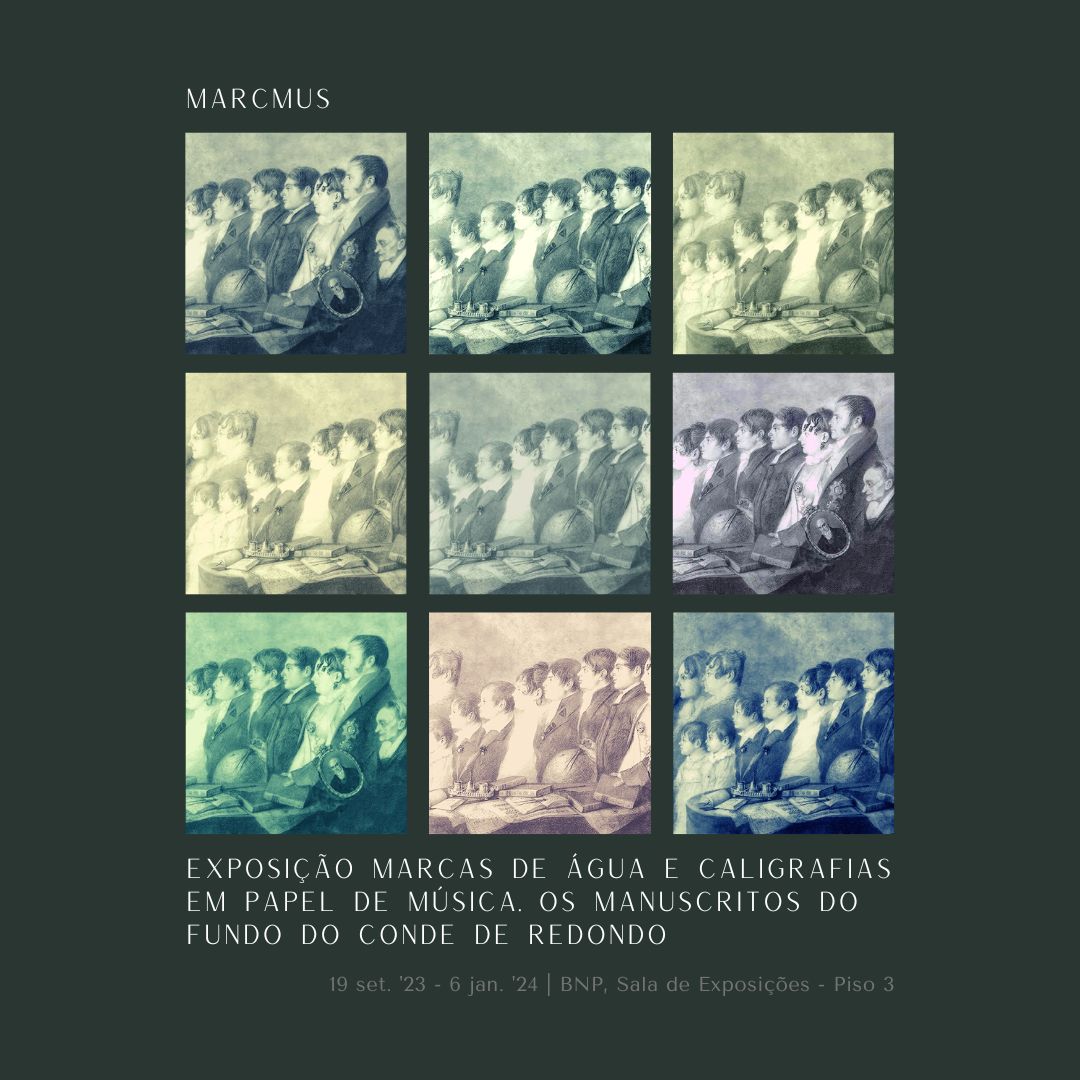 The Fundo do Conde de Redondo (Count of Redondo Collection) of the National Library of Portugal is the archive an aristocratic family of notable patrons with strong connections to music and its production and practice. Its formation was mainly due to the contributions of the 2nd Marquess of Borba, Fernando Maria de Sousa Coutinho (1776-1834), of the 15th Count of Redondo, José Luís Gonzaga de Sousa Coutinho Castelo-Branco e Menezes (1797- 1863), and of the 3rd Marquess of Borba, Fernando Luís de Sousa Coutinho Castelo- Branco e Menezes (1835-1928).
The Collection includes works by more than 120 Portuguese composers and foreign composers residing in Portugal during the second half of the 18th and 19th centuries. In addition, for reasons that remain unclear, a significant number of manuscript works from Italy, some of them autographs, came to integrate the Collection. Despite being a recognised research tool, musicological source criticism, particularly paper and handwriting studies, is a much-neglected discipline in Portugal. The characteristics of the Collection make it ideal for a case study of source criticism in Portuguese music. The exhibition is one of the projected activities of the project MARCMUS – Studies of music paper and handwriting in Portugal (18th and 19th centuries): the case study of the Fundo do Conde de Redondo, which aims to systematically record and digitally preserve the watermarks and paper- types (the conjunction of the watermark and the number and size of staves drawn by rastra) of the music manuscripts. It will also record the literary and music handwritings of the copyists and composers involved (preliminary research has shown that the collection possesses a significant number of autographs). The corresponding project site (www.marcmus. fcsh.unl.pt) will allow free access to the resulting relational databases (watermarks / paper-types and handwritings). The watermark and paper-type database will also become available at the Bernstein Project: the Memory of Paper, the largest international project of its kind (in 10 languages) which includes 56 collections and more than 320,000 researchable watermarks from 22 countries (www.memoryofpaper.eu).
The exhibition, unprecedented in Portugal, displays about 30 watermarks, and the handwriting of some composers (Portuguese and Italian) and copyists. Among the composers Niccolò Jommelli (1714-1774), João de Sousa Carvalho (1745-1798), António Leal Moreira (1758-1819), Giuseppe Totti (17??-1833), Marcos Portugal (1762-1830) and Friar José Marques e Silva (1782-1837) stand out. As for the copyists that was possible to identify, and in addition to the 15th Count of Redondo, the handwriting of three copyists who distinguished themselves in the music production context of the royal chapels and the Holy Patriarchal Church, is showcased.
With the contribution of the Museu do Papel Terras de Santa Maria, the process of hand-making paper will be exemplified through the exhibition of some essential equipment: the vat, the moulds and a structure for drying paper.
EXHIBITION | 19 Set. '23 – 6 Jan. '24 | Exhibition room – Floor 3 | Free entrance
Supporting entities:
CESEM NOVA FCSH – Centro de Estudos de Sociologia e Estética Musical
NOVA FCSH – Faculdade de Ciências Sociais e Humanas da Universidade NOVA de Lisboa
FCT – Fundação para a Ciência e Tecnologia
Museu do papel – Terras de Santa Maria
Biblioteca Nacional de Portugal