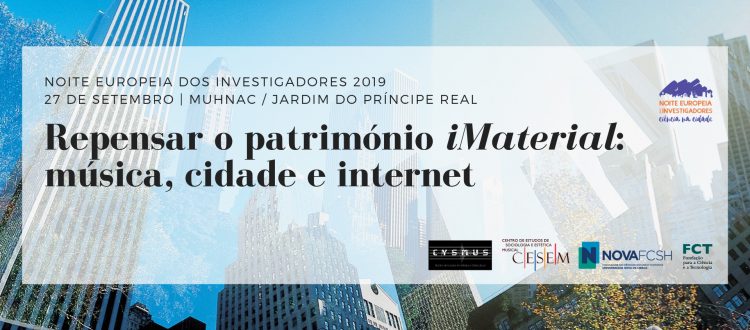 Participation of the Nucleus of Music and Cyberculture Studies (CysMus) at the European Researchers Night 2019
September 27th from 18h to 00h | National Museum of Natural History and Science and Principe Real Garden
Participation of the Nucleus of Music and Cyberculture Studies (CysMus) with the activity:
"Rethinking iMaterial Heritage: Music, City and Internet"
Description:
Nowadays, the internet is an undeniable universe in our daily life, being present in mobile phones, computers, televisions and even washing machines. Music is also central to society's practices and activities, and can be heard in the most diverse formats and media that have been developed through technology, investment and consumption.
With the new possibilities for sharing and diffusing these contents, it is important to reflect on the modes of archiving and conservation of music that is itself created and circulated in both digital and physical media. The activities proposed by CysMus aim to provide two interactive quizzes (one for the general public and one for children) on how music and the internet influence our daily lives, how today's urban landscapes form, and also how they constitute , in today's era, a diverse cultural heritage spread across multiple platforms that simultaneously build digital archives.
Stop by the CysMus space on September 27 between 6 pm and midnight in the Royal Prince's Garden to learn more, chat and participate in the quiz!